Peace Ambassador: ​Swami Ekananda Maheswari
SWAMI
Ho incontrato Jasmuheen nel 1999 e ancora oggi, dopo circa 20 anni, il mio rispetto, l'amicizia, l'amore e la gratitudine sono forti come il primo momento.
Grazie a lei :
sono arrivato a vivere di luce nutrendomi di prana per più di 4 anni,
mi sono formato in questi anni in sua compagnia durante i ritiri e
nell'anno 2015 ho accettato il suo invito a partecipare al primo ritiro formativo degli Ambasciatore di Pace in Messico.
Jasmuheen è per me sempre fonte di ispirazione e guida, non solo nel viaggio e nell'esplorazioni dei campi ma anche nell'approccio alla vita. La mia gratitudine va sempre e per sempre a lei.
Swami si definisce un Visionario Pragmatico e condivide nei ritiri, corsi, satsang e conferenze il suo semplice messaggio : "Ama & Servi – con integrità e grazia"
Swami sostiene con grande passione il viaggio di ognuno verso il ritorno alla propria Origine/Essenza con ciò che lui semplifica nel linguaggio con "Avatar ti restituisce"
SWAMI  : Ambassador of Peace – Transpersonal & Soul Counselor – Spiritual & Soul Coaching – Promoter & Coach for Matrix Freedom – Multidimensional Healer
 Email: ​[email protected]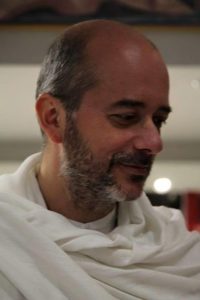 Peace Ambassador: Swami Ekananda Maheswari
SWAMI
I met Jasmuheen in 1999 and still today, after about 20 years, my respect, friendship, love and gratitude are as strong as the first moment.
Thanks to her:
I came to live of light nourishing myself with prana for more than 4 years,
I have been trained by her over the years during the retreats and
in 2015 I accepted her invitation to attend the first retreat for Peace Ambassadors in Mexico.
For me Jasmuheen is always a source of inspiration and guidance, not only in the journey and exploration of the fields bust also in the approach to life. My gratitude belongs to her always and forever.
Swami define himself as a Pragmatic Visionary an he shares in retreats, courses, satsang and lectures his simple message: "Love & Serve – with integrity and grace" .
Swami supports with great passion – each and everyone – journey back to his/her Origin/Essence, defining it with simple words "Avatar gives you back"
SWAMI  : Ambassador of Peace – Transpersonal & Soul Counselor – Spiritual & Soul Coaching – Promoter & Coach for Matrix Freedom – Multidimensional Healer