Italy – Diana Raj

ITALY
The Embassy of Peace in Italy plus its Active Ambassadors
L'Ambasciata di Pace in Italia più i suoi ambasciatori attivi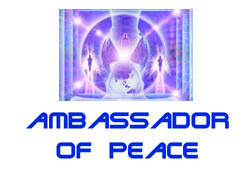 DIANA RAJ
Diana ama essere di sostegno agli altri nel loro Risveglio Consapevole, e per lei è un'arricchimento di gioia, d'amore e di pace interiore, di sorrisi e d'amorevolezza reciproci, con ogni persona che ha frequentato i seminari.
E' un co-creare e con-dividere magnifico e nutriente per tutti, in un percorso per imparare ad amare/accettare la nostra vera natura, la nostra Essenza Divina ed essere in comunione con Essa.
La mia gratitudine a Jasmuheen, al Campo dell'Ambasciata di Pace e alle mie Guide per loro amore, sostegno e benedizioni!
Grazie alla mia Essenza per avermi fatto incontrare Jasmuheen!
Diana Raj, Ambasciatrice di Pace, chiaroveggente, chiarosenziente, chiaroudiente, guaritrice multidimensionale.
Facebook: Diana Raj
cell/ +39.3333570986
mail: ambasciatadipace@icloud.com
IN ENGLISH
Diana loves supporting the others on their path on the Conscious Awakening, and for her it's a such a mutual enrichment of the joy, love and peace, of the laughter and kindness with each person that participated the Luscious Lifestyle Programme. Such a nourishing path to learn to love/accept our true Nature, our Essence and to be in the communion with Her.
My gratitude to Jasmuheen, to Guides of The Embassy of Peace and to my Guides for their support, love and blessings! Thank you my Essence for I've met Jasmuheen!
Diana Raj, clairvoyance, clairaudience, clairsencing, multidimensional healer.
Facebook: Diana Raj
mobile/ +39.3333570986
mail: ambasciatadipace@icloud.com <mailto:ambasciatadipace@icloud.com>