The Embassy of Peace
OUR PURPOSE & HOW WE ARE ACHIEVING THIS!
The purpose of The Embassy of Peace is to offer pragmatic programs that can deliver personal and global peace and connect deeper and unify with those on earth who are open and sincerely ready for this.
To facilitate this, we offer … various pragmatic programs and projects, retreats and affiliate training for our Ambassadors of Peace, plus live video conferencing.

LIVE VIDEO CONFERENCING WITH JASMUHEEN
Launching soon … click here to for more re this!
Join Embassy Founder and Peace Ambassador Jasmuheen for a more personal and in depth connections via her events and also through her live video conferencing.

OUR EMBASSY PROGRAMS

Creating the One People Living in Harmony on One Planet reality …

To support this we offer our free 200 page manual on our complete Embassy Program to co-create permanent peace in our lives and in our world.
To make it easier to assimilate all that our Embassy Program offers, we now offer smaller manuals on each program
Personal Harmonization Program for creating and supporting personal health and harmony via attitude and lifestyle shifts. As Gandhi said we need to be the change we wish to see in the world.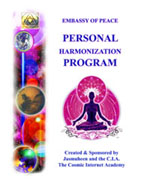 Global Harmonization Program which addresses key issues for the manifestation of global health and harmony from the elimination of global health and hunger issues, to resource sustainability, redistribution of the world's resources and much more!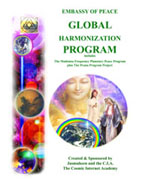 and also our
Universal Harmonization Program which looks at our position as a planet in a multi-dimensional, multi-universal context where we address E.T.'s, U.F.O.'s, life in other star systems in other dimensions of expression, universal laws and much more.

UPGRADING ALL OUR SYSTEMS OF OPERATION
plus our Upgrade Program – Upgrading our social, educational, environmental and political systems of operation so that every system on earth operates for the highest good of all to support our One People Living in Harmony on One Planet Agenda.
OUR EMBASSY OF PEACE PROJECTS
Apart from our Harmonization Programs, our two main global projects are:-
The Madonna Frequency Planetary Peace Program
The Madonna Frequency Planetary Peace Program – MFPPP – which is available as a free e-book in English and also many other languages yet essentially the programs within the MFPPP allow us to be more pro-active regarding taking care of imbalances in our world.
The Prana Program
The focus of our Prana Program is on  substantially reducing personal and global health and hunger issues and this is covered in detail in our Prana Program Research manual.

RETREATS & AFFILIATES CERTIFICATION AND TRAINING
At the Embassy we also …
train special people who support our principles to be Ambassadors for Peace – click here for more on our Affiliates Training Program which we offer
at our Embassy's Annual Retreat

EMBASSY OF PEACE FREE VIDEOS
To understand more about the Embassy ..
YOUR PARTICIPATION

Does living in a healthy, happy, harmonious reality appeal to you?
Do you feel inspired to add to this world in a positive and uplifting way?
Then connect in and then log-in to our Embassy of Peace channel now and subscribe to our Premium Live Video conferencing series and liaise with Peace Ambassador Jasmuheen in person!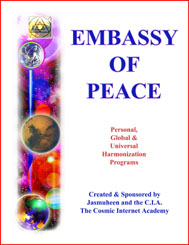 Download your free Embassy manual now!